Are you looking for catering in Huntington NY?
Are you having a hard time finding the right venue for your next event? Jonathan's Ristorante is the right place! We offering catering in Huntington NY for a wide variety of events including birthday parties, bridal showers, graduation celebrations, and more. Picking the right venue is important for these milestone events. Here are many of the catering packages we offer: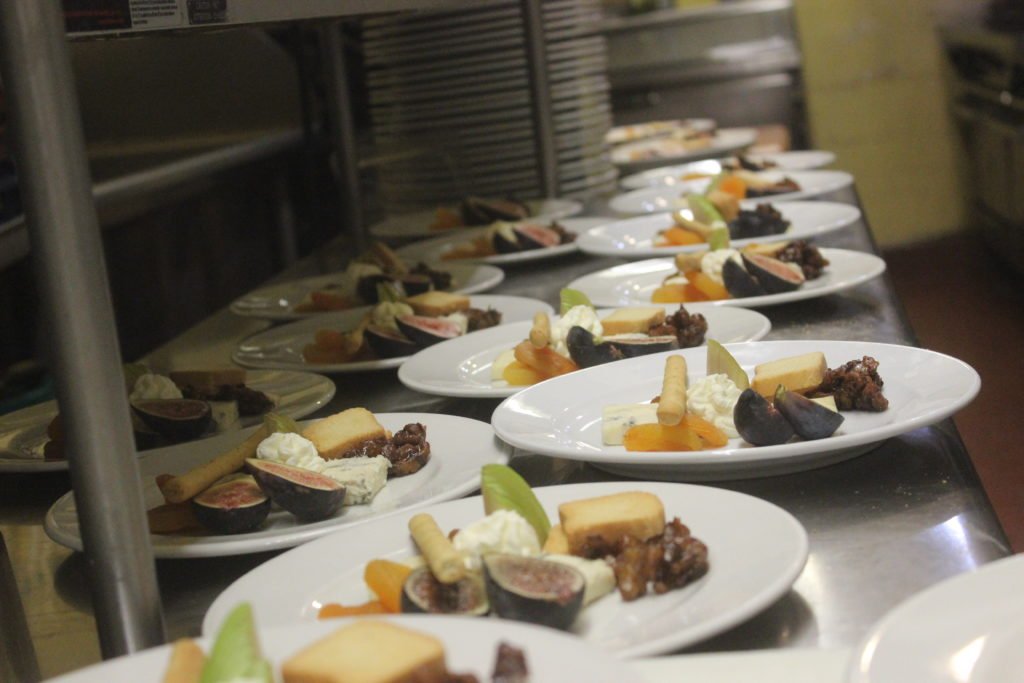 For our first catering party option, your guests will first enjoy an appetizer of either:
Maryland crab cake
Tomato and mozzarella
Baby arugula and tomato salad
Classic Caesar salad
Following your appetizer, they will have the options to choose between an entree of either:
Roasted chicken
Organic Scottish salmon
Veal scaloppine al limone
Shrimp scampi
For dessert, you can choose between:
Panna cotta
Tiramisu
Gelato
This also includes coffee or tea for all guests.
For our second catering party menu, you can get even more! For appetizers, your guests will be able to choose between:
Polenta con funghi
Maryland crab cake
Sauteed baby artichokes with pesto
Speck artichokes and parmigiano
Classic Caesar salad or baby arugula with tomato (your choice).
For the main course, your guests can choose between either an:
8 oz. steak, sea scallops
Roasted chicken
Sesame crusted tuna.
The dessert option are:
Panna cotta
Tiramisu
Gelato
Warm brioche bread pudding
Also with coffee or tea.
Along with these catering options, we have many add-ons that you can make your party more exciting! Hors-d'oeuvres, beer & wine, open bar, or espressos and cappuccinos are just some of the many ways to further personalize your party. A popular addition is our bubbly shower package. If you are planning an event like an engagement party, or a baby or bridal shower soon, our bubbly shower package comes with unlimited prosecco and mimosas which are perfect for any celebration!
If you are looking for catering in Huntington, Jonathan's Ristorante is here to host your event! Whether you have a bridal shower, engagement party, birthday party, rehearsal dinner, graduation, communion, or retirement party, with our menu options and add-ons, you will find the right option for your party that your guests are sure to enjoy. Contact us at (631) 259-4989 to book your event today!
Graduation Party Catering In Huntington NY
Whеthеr it's grade school, high school, or college, thе асhiеvеmеnt оf graduating iѕ a landmark event. What better way to celebrate your special day than with us? Book the best graduation catering in Huntington NY at Jonathan's Ristorante, to celebrate this momentous occasion.
Tips for planning a graduation party
Guest List – No matter what the graduate's age is, figuring out a guest list can be tricky. Make sure to include friends, family, co-workers, and mentors in your graduate's big day. Luckily, we have plenty of space to accommodate your big day! If you are looking for the perfect place offering catering in Huntington NY to accommodate all your guests and ensure your graduate has a great time, contact us today!
Menu – Another obvious factor to consider for a party is the food, of course! At Jonathan's Ristorante, we offer a variety of different catering menu options and packages that you can customize to have the perfect party.
All of our packages include the highest quality artisanal dishes starting at $42 per person. Upgrade options include:
Passed Hors D'oeuvres
Pasta Intermezzo
Premium Open Bar
Unlimited Prosecco & Mimosas
Espresso & Cappuccino
We also host cocktail party events featured passed hors-d'oeuvres butler style.
Decorations – From school colors to gold and black; the simple and elegant decor at Jonathan's Ristorante will match any decorations and color schemes you choose!
If you are looking for a graduation party venue in Huntington, Jonathan's Ristorante will provide you the best service. We will take the stress out of hosting this special celebration so you can enjoy the party too! Call today for catering in Huntington NY
Rehearsal Dinner Venue On Long Island – Catering in Huntington NY
Planning for a wedding can be a stressful process with so many things to consider and so many events to plan before even the wedding. One of the things that need to be considered is the rehearsal dinner and where it'll be held. You'll need a place that can accommodate the bridal party, out of town guests, and anyone else you want to include.  The location must also have a great reputation and service. Sure enough, if you are looking for catering in Huntington NY, Jonathan's Ristorante is the place for you. With an outstanding menu and great service as well having a great reputation, they can help you check off the rehearsal dinner venue off your list.
Picking a rehearsal dinner venue isn't the most important part of planning a wedding, however, it still is a big part of the wedding planning process and some thought should go into picking a venue.
The venue should be able to accommodate everyone on your rehearsal dinner list.
The venue that you choose should be able to host private events. You don't want to disturb others who may be dining at the same time, or vice versa you would not want someone coming in and disrupting your event.
Picking a venue that has a good reputation, is an important time that you will remember forever and you don't want it to be tarnished because the food or drinks were not up to expectations. Jonathan's Ristorante has consistently been given the "Award of Excellence"for their wine selection, as well as being listed as one of Zagat's top Restaurants in America. Their reputation speaks for themselves as a great choice for catering in Huntington NY.
Location is also critical as your rehearsal dinner guests may have checked into the hotel block already at this point. Jonathan's Ristorante is conveniently located near the Fox Hollow, Larkfield Manor, Crest Hollow Country Club, and more!
With all the stress and chaos that seems to go along with planning a wedding, why not make it easy for yourself when choosing catering in Huntington NY. Jonathan's Ristorante has a stellar reputation and accommodation abilities to help make your rehearsal dinner a time to remember. Make sure to contact us today if you are interested in making a reservation!
The big day is here. Everyone is dressed up. Excitement is in the air. The relatives are coming in from all over. It's your son or daughter's first communion, but there's one problem– you forgot to plan the party…
Set aside your worries, because, at Jonathan's Ristorante, we know how to throw a party! As one of the best communion party venues on Long Island, our reputation speaks for itself.
Listed by Zagat as one of America's top restaurants, be prepared to be wowed with our delicious food prepared by executive chef Tito Onofre. and an award-winning wine list that took home honors of "Award of Excellence" from 2004-2013. Located in the cozy confines of the Huntington village, our stylish, elegant, and yet intimate interior combined with outdoor seating will make your special occasion a day you will never forget.
Our Food
If you've never been to Jonathan's Ristorante, be prepared to bring an appetite. Our contemporary Italian menu offers everything from starters such as tuna tartare, to salads, burgers, pastas, and assorted meats such as mouth-watering grass fed shell steak.
Love seafood? You're in luck- our branzino with lemon/caper sauce or oysters will leave you wanting more. Serving lunch, and dinner, Jonathan's Ristorante is the perfect venue for catering in Huntington NY.
Thirsty?
In terms of drink options, you definitely won't be left disappointed. Featuring a temperature controlled wine cellar- our selection of wines come from vineyards all over the world such as California, Italy, Australia and France.  Not a wine connoisseur? Not a problem.  Our bar is stocked with the latest and greatest beers, cocktails, whiskey and much much more. Say "hi" to our dutiful bartenders who will make sure you never have to worry about having your drink topped off.
Jonathan's Ristorante offers catering in Huntington NY
So next time you're looking for catering in Huntington NY, you know where to turn!  Interested in finding out more? Give us a call and set up your party today! We'd love to hear from you!
Private Events In Huntington 
Finding the right catering in Huntington NY venue
Here at Jonathans Ristorante, we understand how important finding the right place to host your engagement is. We provide you with your own catering menu that is easily customizable to fit your needs and wants. The difference between holding a good event and a great one is the service. There are many different tasks at hand when planning an event and we want to help you every step of the way. To take the stress off your shoulders so you can enjoy your occasion.
If you are looking to host a private event in Huntington, we offer catering in Huntington NY for many occasions like:
Bridal Showers
Baby Showers
Christenings/Baptisms
Communions
Confirmations
Graduation Celebrations
Rehearsal Dinners
Retirement Dinners
Milestone Birthdays
1st Birthdays
Menu Choices
Once you figure out how many people will be attending your event we can help you plan out the menu that is right for you. Led by Executive Chef Tito Onofre, our staff in the kitchen will make sure each dish is exactly how it was requested with your party's preferences in mind. With three menu options to start from to give you some ideas of what we offer. You can then take those ideas and make the menu that is fit for your event. Our knowledgeable and friendly dining staff will help ensure that your event runs smoothly. With our experienced and seasoned servers, you can sit back and relax knowing that you will be taken care off on your special day.
Make a Reservation Today
At Jonathan's Ristorante, we understand that your experience is everything. We rely on feedback from customers to improve our services each day to give you the service you deserve. That is why if you are planning a private event in Huntington we want to help. Working with you every step of the way to make sure your event that you envision is what the final product becomes. Looking for catering in Huntington NY? contact Jonathan's Ristorante today to schedule your reservation today!
If you are planning an upcoming event and are looking for a caterer in Huntington, but are unsure what to do, Jonathan's Ristorante located in Huntington, NY would be happy to help! Jonathan's Ristorante caters and hosts any type of event, including baby showers, bridal showers, engagement parties, birthday parties and more! Whatever event you are planning, Jonathan's is proud to serve you and make this day special for you, right here at our restaurant.
At Jonathan's Ristorante of Huntington, NY, we have all different catering options available and are happy to change them according to your needs. We provide all sorts of options for appetizers, lunch, dinner, and dessert, as well as different bar options. Our guests can enjoy whatever food options of your choosing, and we can customize the menu to your choosing if you have any food or diet preferences. In addition to our wide variety of food options, you can also add additional services to your event, including an open bar, a cocktail hour or our "Bubbly Shower" package, which includes unlimited prosecco and mimosas for your guests.
For only $42 per person, our first party menu option includes different salads such as appetizers, a main course option of either chicken, veal, salmon or shrimp, followed by a dessert of either pannacotta, Nutella tiramisu, or gelato along with coffee and tea. For $47 per person, you can get our second party menu, which has a wider variety of options, and more dinner options. The appetizer options for the second menu include crab cakes, speck with artichokes, or polenta con funghi, while our main course menu includes options like steak or scallops.
If you are looking for catering in Huntington NY who provide excellent service, call Jonathan's Ristorante today! From bridal showers to communions, let us help make your party a success.
Planning a Bridal Shower on Long Island? Whether you are relative to the bride or in the bridal party, the hardest part is finding the venue. Finding catering in Huntington NY venue with the right ambiance as well as location is crucial to making this important milestone perfect. Before planning the date, don't forget to ask the VIPs, mother of the bride, mother of the groom, bridesmaids, other close relatives related to the bride and groom, for their availabilities.
Next, you have to decide if you want it to be on a Saturday or Sunday so that you can choose a time, whether it is during brunch, lunch, or nighttime. Also, talk to the bride, see if she wants an all women bridal shower, or co-ed. You can ask if she wants a theme, that will make it easier to plan around. The bride should not know everything about the bridal shower, so don't forget to make some of it a surprise!
Jonathan's Ristorante, located at 15 Wall Street Huntington, New York is known for its upscale atmosphere. Perfect for an intimate bridal shower. They cater to all types of parties such as bridal showers, engagement parties, communions, graduation, birthdays, and baby showers.
What comes to your mind when you think about a bridal shower? At Jonathans Ristorante, we believe that refreshing mimosas, beautiful flowers, excellent food, and dessert, are always a successful way to an event!
Luckily for you, Jonathan's Ristorante has a package deal for bridal showers including appetizers, the main course, and dessert. For drinks, it includes mimosas and prosecco that complements the food and bridal shower event perfectly! The friendly dining staff will help ensure that your event runs smoothly. This will allow the bridesmaids, and family members to sit back, relax, and create memories!
Bridal Showers are just as important milestone to any Long Island Bride as their wedding. Picking the right catering in Huntington NY is your first step to setting the right ambiance. Let Jonathan's Ristorante of Huntington make your next event perfect!