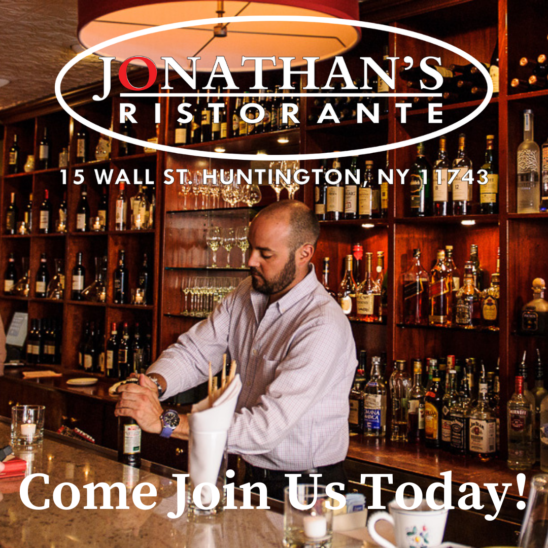 There are many restaurants in Huntington NY coming and going, but Jonathan's has been a landmark in the village of Huntington since its opening in 1994. Jonathan's delightful atmosphere combines European flavor with a casual yet sophisticated look, contemporary Italian menu and a courteous and knowledgeable staff. Visit our Italian Restaurant in Huntington NY today for a delicious meal in great atmosphere!
Owner Roberto Ornato likes to think of the vibrant décor and the exquisite food is what sets Jonathans apart from the rest, an accomplishment recognized by Zagat, with an "award of distinction" and was voted one of Americas top 1,000 Italian Restaurants.
Executive Chef Tito Onofre heads the kitchen staff and designed the new lunch and dinner menus. Roasted Branzino with a light Lemon and Caper Sauce and Squid Ink Linguini with a San Marzano Tomato Sauce and Tiger Shrimp are a few examples of the dishes that have become instant classics. Zagat calls the dishes "refined Italian" with "lovely nightly specials" and the wine list "impressive and affordable". Come and try our Italian Restaurant in Huntington NY today!
Jonathans is one of the few restaurants to combine a temperature controlled wine cellar and Riedel wine glasses with a wine list well stocked with wines mostly from small vineyards in Italy, California, France and Australia. Our wine list has won Wine Spectators "Award of Excellence" 2004-2013. The service is warm, starting from the Manager Alex, the whole dining room staff is friendly and knowledgeable at Jonathans, where you can enjoy the same inspired dinner menu items for your next private party on a Saturday or Sunday afternoon..
---
Jonathan's Is Now Working With DoorDash
Do you love the food we serve here at Jonathan's Ristorante but are trying to avoid dining at restaurants at the moment? Are you strapped for time and still need to make dinner? If these apply to you, we have the solution. Our team is happy to announce that Jonathan's is now working with DoorDash. By utilizing this service, you can have Italian delivery in Huntington and the surrounding area whenever you're in the mood!
The Benefits Of Our Partnership
The COVID-19 pandemic has caused restaurants around the globe to change their thinking regarding a successful business model. Our team at Jonathan's Ristorante was not exempt from this predicament. To best serve our patrons, partnering with DoorDash was a must. We understand by working with them to provide Italian delivery in Huntington, there are many benefits for our customers. The benefits you'll receive can include the following:
Getting to enjoy our food if you are unable to dine in with us.
Saving time by not having to prepare your meal.
Enjoying Our Full Menu
One benefit that was not previously mentioned specifically is that the entire menu can be ordered when going through DoorDash. However, we do want to call out the full menu is only available between 5:00 pm through 8:15 pm. Some of the items we recommend choosing when ordering Italian Delivery in Huntington can include:
Prosciutto di Parma.
Spaghetti Bolognese.
Cavatelli with Lobster.
Rigatoni.
Linguine Nere con Gamberi.
An Alternative To Italian Delivery In Huntington
When people hear takeout, they will most likely automatically begin to think about delivery. However, did you know that you can call (631) 549-0055 and place your order directly with us for pick-up! If you're in the mood for Italian food but don't want to deal with delivery, you can always come to our location to pick up your order! Doing so allows you to cut the middleman out. We highly recommend giving this a try for those willing to take a quick trip from their house.
Place Your Order
We hope that fans of our restaurant are happy they can now use DoorDash to order Italian delivery in Huntington from us. If you have any questions or want to learn more about our menu, please don't hesitate to contact us at Jonathan's Ristorante today.
---
Our Covid-19 Policies
As Long Island continues to reopen, our team at Jonathan's Ristorante would like to address how we have begun to navigate through these uncharted waters. While we are ecstatic to be able to begin serving our community more than we had been in recent months, our commitment to safety is still paramount. We want customers to feel comfortable dining at their favorite restaurant in Huntington. To learn more about how we are protecting our customers and staff, please continue reading.
Seating Arrangements
As you may know, here at Jonathan's Ristorante, we have been providing takeout for some time now. However, we're happy to announce that sit-down dining is now once again an option! When the weather permits it, we have outdoor seating on our back patio as well as in our indoor dining room as well. To adhere to safety guidelines, our maximum occupancy has been reduced in order to allow for socially distant seating. Reservations are recommended, so please do not hesitate to call us when you're craving food from the top restaurant in Huntington.
Our Bar Area
Stopping in for a delicious cocktail and food is always an option this summer. Our bar area is also now open for socially distant seating. Why not stop by our restaurant in Huntington so you can enjoy any of the below drinks:
Out Of Thyme.
Peach Bellini.
Pear Tree Martini.
Cucumber/Jalapeño Martini.
Any of our delicious wines available at 30% off a bottle!
Additional Safety Procedures
When it comes to both our customers and staff, safety will always be our number one priority. We're following best practices listed by the FDA to ensure our return to indoor does not lead to issues. Examples of our safety procedures include:
Having all staff members wear masks.
Increased sanitizing of high traffic areas as well as tables and chairs in between guests.
Screening employees to ensure they don't come to work when displaying symptoms.
Ensuring customers do not congregate around the bar area.
Make Your Reservation
Here at Jonathan's Ristorante, we cannot wait to see our happy customer's faces inside our dining room again. To ensure you don't miss out on our return to form, make sure you contact us today to schedule your reservation!