There are many Huntington Village Restaurants coming and going, but Jonathan's has been a landmark in the village of Huntington since its opening in 1994. Jonathan's delightful atmosphere combines European flavor with a casual yet sophisticated look, contemporary Italian menu and a courteous and knowledgeable staff. Visit our Italian Restaurant in Huntington NY today for a delicious meal in great atmosphere!
Owner Roberto Ornato likes to think of the vibrant décor and the exquisite food is what sets Jonathans Ristorante apart from the rest, an accomplishment recognized by Zagat, with an "award of distinction" and was voted one of Americas top 1,000 Italian Restaurants.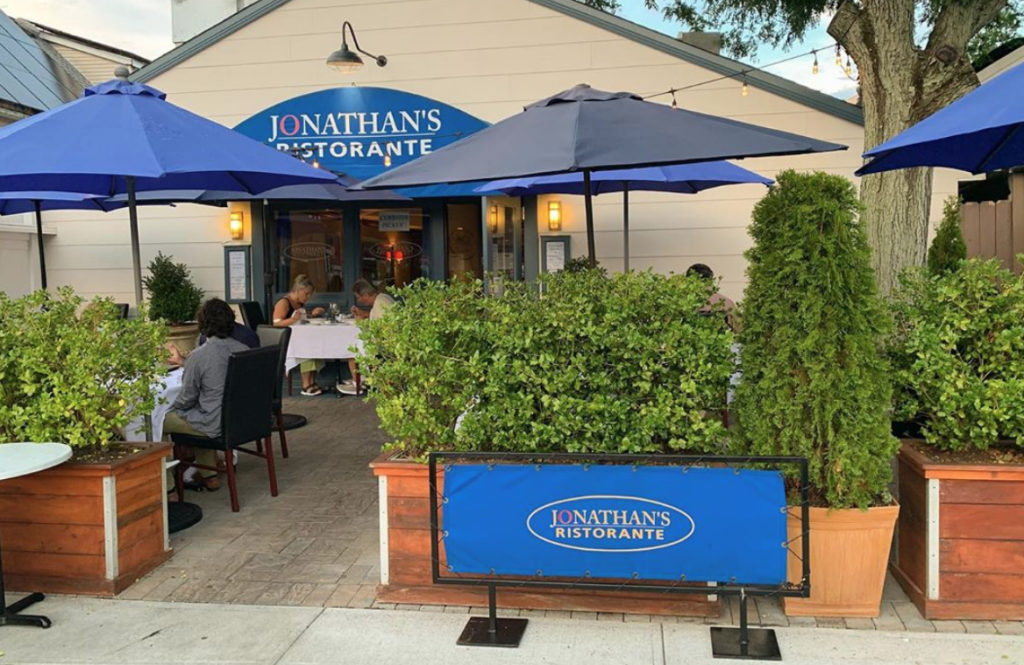 Executive Chef Tito Onofre heads the kitchen staff and designed the new lunch and dinner menus. Roasted Branzino with a light Lemon and Caper Sauce and Squid Ink Linguini with a San Marzano Tomato Sauce and Tiger Shrimp are a few examples of the dishes that have become instant classics. Zagat calls the dishes "refined Italian" with "lovely nightly specials" and the wine list "impressive and affordable". Come and try our Italian Restaurant in Huntington NY today!
Contact Us Today For Italian Cuisine
Jonathans is one of the few restaurants to combine a temperature controlled wine cellar and Riedel wine glasses with a wine list well stocked with wines mostly from small vineyards in Italy, California, France and Australia. Our wine list has won Wine Spectators "Award of Excellence" 2004-2013. The service is warm, starting from the Manager Alex, the whole dining room staff is friendly and knowledgeable at Jonathans, where you can enjoy the same inspired dinner menu items for your next private party on a Saturday or Sunday afternoon.
---
Cocktails, Wine, and Italian Food, & Outdoor Dining
As Long Island begins to reopen, it's essential to grab hold of all the latest news surrounding venues reopening and events going on. Although the road to reaching pre-pandemic levels of normalcy is a long one, we must focus on finding ways to enjoy the current new levels of standard. One of the best ways to do that this summer is to enjoy our cocktails, wine, and Italian food via delivery and takeout. As a top Huntington Village Restaurants, we hope you choose us for your meals. Additionally, outdoor dining is now available via our back patio!
30% Of Wine
The only thing that can make wine better is being able to purchase it at a reduced price. Here at Jonathan's Ristorante, our famous bottles of wine are now 30% off. There are few better ways to enhance a meal than pairing it with the perfect wine, so why not order some from our extensive wine list today?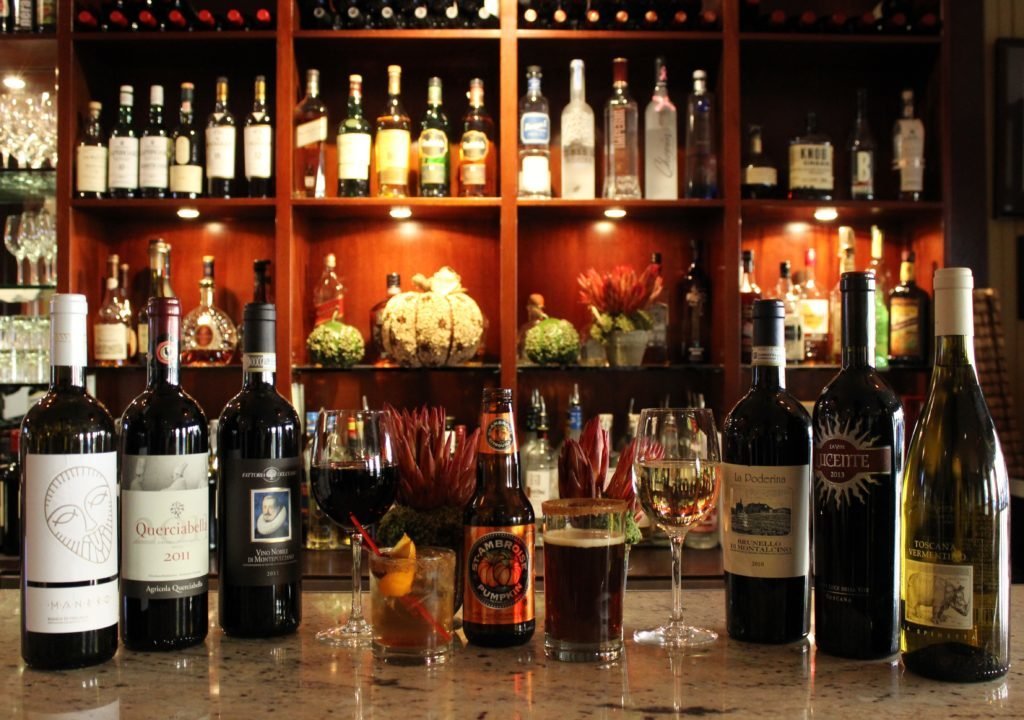 Cocktails
Much like our extensive wine selections, our list of cocktails should not be overlooked. While you may not be able to enjoy them within our dining room, our bartenders can have them ready to enhance your takeout or delivery purchase. You can also be seated outside via our back patio for some outdoor dining, while maintaining the practice of social distancing. Sometimes, the drink is what helps make the meal. If you're looking to order from our Huntington Village Restaurants, we recommend giving the below cocktails a try:
Sicilian Sidecar.
Out of Thyme.
Hooked on Hibiscus.
Underground.
Italian Food
As the summer comes into full swing, the urge to have a hearty Italian meal for dinner can be hard to fend off for some. Fortunately, thanks to Jonathan's Ristorante, you'll never have to fight it! We're committed to proving the highest quality of Italian food for those looking to order from Huntington Village Restaurants. This weekend, we recommend trying the below:
Cavatelli with Lobster.
Pasta Bolognese.
Pollo al Limone.
Branzino.
Spanish Octopus Alla Piastra.
Order Today!
Your favorite Huntington Village Restaurants is dedicated to serving you the best quality italian dishes in the area. Don't miss out on our extraordinary cocktails, wine, and Italian food. If you're ready to enhance your weekend with a quality meal, please contact us at Jonathan's Ristorante!
---
Outdoor Dining in Huntington
We are finally getting some warmer weather and sunshine, which makes this season the perfect time to enjoy Huntington Village Restaurants! At Jonathan's Ristorante, we have seating available outside on our gorgeous back patio. If you love delicious Italian food and want to dine outdoors this summer, Jonathan's Ristorante is the place to be for a good time in Huntington. 
The Benefits of Outdoor Dining
With the current situation regarding the ongoing COVID-19 pandemic, we want to make sure our customers know that we are taking the necessary steps and precautions to ensure our customers, staff, and community's safety. When you come to Huntington Village Restaurants, you can enjoy the sunshine and fresh air with friends and family while also keeping up with social distancing measures.
Italian Food To Enjoy At Huntington Village Restaurants!
Jonathan's Ristorante has been a staple in the community for many years and has been a go-to for those looking for Huntington Village Restaurants. Here are some of the delicious dishes we serve at Jonathan's that you can enjoy al fresco:
Agnolotti di Zucca.
Pollo al Limone.
Linguine Neri con Gamberi.
Branzino.
Salmone Scozzese.
Filet Mignon.
Our Bar
We have a wide selection of different wines and cocktails that you can choose from to enjoy with your Italian meal! Consider joining us for Huntington Village Restaurants so that you can enjoy some of the delicious cocktails that we have listed below:
Peach Bellini.
Pear Tree Martini.
Cucumber & Jalapeno Martini.
Out of Tyme.
King Guadalupe.
If you're not in the mood for a cocktail, you can also enjoy our wine selection! We currently have an amazing promotion where you can get 30% off bottles of wine! We have endless options for you to try, and our team can help you find your new favorite drink! Click here to view our entire dinner menu.
Contact Us at Huntington Village Restaurants
There is no shortage of Italian restaurants in Huntington, but few can compare to the quality of Jonathan's. At Jonathan's Ristorante, we can't wait for you to join us for Huntington Village Restaurants this season! Our expert waitstaff is always here to answer any questions you have about our menu, wine, and food pairings. Be sure to contact us today to schedule your reservation!
---
Italian Dinner Date Night
If you are planning an Italian dinner, either to celebrate with friends and family or as a date for you and your partner, you should learn the general courses of a traditional Italian dinner. These parts include the antipasto, primo, secondo, contorno, and dolce, and each of these parts has different types of foods in them. Enjoying a meal in this Italian fashion can turn any night into a special occasion. An Italian dinner date is also a great experience to share with your special someone, and it is an excellent idea for Valentine's date night too! If you are looking for a delightful Huntington Village Restaurants, for an Italian Valentine's Day dinner, look no further than Jonathan's Ristorante.
Italian Dinner Layout:
While there are no set rules on how you should enjoy delicious Italian meals, there is a general order to the parts of each meal. We will discuss the different parts of an Italian dinner here, and make it simple so you can impress, either when you go out or cook for yourself. For Italian Huntington Village Restaurants, come to Jonathan's Ristorante and enjoy the delicious flavors of Italy.
Antipasto – This is referred to as "before the meal." It can be compared to appetizers in our cuisine and is usually just something to eat while you wait till your next course. Some things that are typically eaten as an antipasto include platters of meats and cheeses, bruschetta, crostini, and calamari.
Primo – The primo is the first course and generally will have a more substantial amount of food than the antipasto. Since antipasto is usually colder foods, primos tend to be hotter foods. Some common examples of primos include pasta, lasagne, risotto, gnocchi, and soup.
Secondo – This is the second and main course of the dinner. This section of the dinner is when the most substantial portions of meat are served, or meaty seafood. Food such as chicken, lamb, beef, duck, lobster, etc.
Contorno – These are side dishes that are served alongside the secondo. The sides are usually vegetable-based dishes, either cooked such as sauteed spinach, asparagus, and potatoes.
Dolce – A sweet dish, or a dessert, that typically concludes the meal. There are many different types of desserts you can serve or eat, but each of them has a sweet tone to them. Caffeinated drinks such as an espresso or cappuccino can be served alongside dolce, a digestive alcoholic drink is taken after.
---
Italian Cuisine in Huntington
Are you looking to indulge in Huntington Village Restaurants? If so, Jonathan's Ristorante is the perfect place for you! Our traditional Italian cuisine will make you feel as if you are enjoying your meal in a Tuscan villa!
Our Specialty Fish
Fish is a staple in traditional Italian Cuisine. This includes both fish fresh from the sea and fish canned in oil, such as sardines. Traditional Italian cuisine also includes many cured meats. Jonathan's Ristorante has an extensive menu that includes these traditional Italian delicacies.
Now let's talk about the menu in general. If you aren't familiar with this cuisine, you may come across some words that you do not know when reading through our menu of Italian cuisine in Huntington. Our menu down below consists of five different categories:
Antipasti
Insalata
Contorni
Paste Fresche
Secondi
Respectively, these courses translate to appetizers, salads, vegetables/sides, fresh pasta, and a second course. This would rather happen more than just one, for a more well-rounded meal of Italian Cuisine.
One of our most popular Antipasti dishes, for Italian cuisine in Huntington, is called Piatto di Salami. This dish is inspired by the traditional Italian passion for preservation and brought to Huntington Village Restaurants. One of our most popular entrees from the Secondi category is Branzino. As fish is highly important for Italian cuisine, the Branzino is not the only fish we serve.
Huntington Village Restaurants Pasta Dish!
If you thought Italian cuisine included many pasta dishes, you are not wrong! We have five pasta dishes that include many different flavors varying from pumpkin ravioli to squid ink linguini. It is traditional Italian cuisine for pasta dishes to include meat or seafood. When indulging in Italian cuisine in Huntington, many of our pasta follow this tradition.
One Of Huntington Village's Best Restaurants
Therefore, if you are looking to create a memorable and enjoyable dinner occasion, then the traditional Italian way is what we recommend. Whether you are celebrating or going out on a dinner date, food like this is sure to bring much enjoyment and happiness. If you are looking for an Italian Huntington Village Restaurants, to enjoy a delicious meal, come join us at Jonathan's Ristorante!