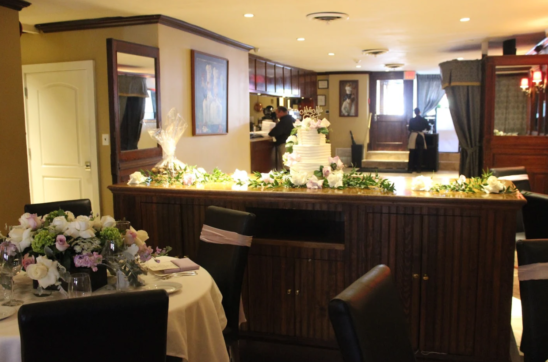 Private Events in Huntington
If you are planning an upcoming event and are looking for catering on Long Island, but are unsure what to do, Jonathan's Ristorante located in Huntington, NY would be happy to help! Whatever event you are planning, Jonathan's is proud to serve you and make this day special for you, right here at our restaurant.
If you are looking to host a private event in Huntington, we offer catering in Suffolk County for many occasions like:
At Jonathan's Ristorante of Huntington, NY, we have all different catering options available and are happy to change them according to your needs. We provide all sorts of options for appetizers, lunch, dinner, and dessert, as well as different bar options. Our guests can enjoy whatever food options of your choosing, and we can customize the menu to your choosing if you have any food or diet preferences. In addition to our wide variety of food options, you can also add additional services to your event, including an open bar, a cocktail hour or our "Bubbly Shower" package, which includes unlimited prosecco and mimosas for your guests.
Menu Options
For only $35 per person, our first party menu option includes different salads such as appetizers, a main course option of either chicken, salmon or shrimp, followed by a dessert of either pannacotta, Nutella tiramisu, or gelato along with coffee and tea. For $42 per person, you can get our second party menu, which has a wider variety of options, and more dinner options. The appetizer options for the second menu include crab cakes, speck with artichokes, or polenta con funghi, while our main course menu includes options like steak, or scallops. We also offer a third party menu option that cost $50 per person.
If you are looking for on-premise caterers on Long Island who provide excellent service, call Jonathan's Ristorante today! From bridal showers to communions, let us help make your party a success.
Baby Shower's
There is a lot that goes into planning a baby shower such as: picking a day/time, assembling your guest list, picking a venue, and picking a theme. By having your baby shower at Jonathan's Ristorante, you can trust that your party will be taken care of for you. So if you are looking for a place to have your baby shower then Jonathan's Ristorante offers catering in Suffolk County.
Picking A Day/Time
The day and time for your baby shower is giving ample time before your due date. It is important to plan the baby shower four to six weeks before the baby's due date. This celebration is about bringing the women in the expecting mother's life together coming from her friends and family to gift her and prepare her for the day that she gives birth to the child.
Assembling Your Guest List
A baby shower guest list typically is all women including the mother-to-be's closest friends and family. The baby shower has changed in modern times with it not being out of the norm to have both men and women at your baby shower. Designating your guest list early in the process will allow you to select the right size venue for your event. Jonathan's Ristorante is an Italian restaurant that offers catering in Suffolk County that can accommodate a wide range of party sizes.
Picking a Venue
Baby showers are a big celebration for women expecting a child and if you are looking for catering in Suffolk County, Jonathan's Ristorante can help you. Our website has different catering options and online table reservations with a kitchen led by Chef Onofre. Jonathan's Ristorante is a popular Huntington restaurant that allows for reservations at the number of 631-549-0055. This dining experience is an intimate location for baby showers, bridal showers, and more. We are located at 15 Wall Street Huntington, NY 11743.
Graduation Parties
Whеthеr it's grade school, high school, or college, thе асhiеvеmеnt оf graduating iѕ a landmark event. What better way to celebrate your special day than with us? Book the best graduation party venue in Huntington, Jonathan's Ristorante, to celebrate this momentous occasion.
Decorations
From school colors to gold and black; the simple and elegant decor at Jonathan's Ristorante will match any decorations and color schemes you choose!
If you are looking for a graduation party venue in Huntington, Jonathan's Ristorante will provide you the best service. We will take the stress out of hosting this special celebration so you can enjoy the party too! Call today – graduation party season is officially here.
Tips for planning a graduation party
No matter what the graduate's age is, figuring out a guest list can be tricky. Make sure to include friends, family, co-workers, and mentors in your graduate's big day. Luckily, we have plenty of space to accommodate your big day! If you are looking for the perfect graduation party venue and need catering on Long Island to accommodate all your guests, contact us today!
Picking a Theme
Having a theme and color scheme will keep your party planning on track. From invitations to the favors, this theme and color scheme should carry through.
Planning a baby shower in Suffolk County does not need to be difficult. With Jonathan's Ristorante, our catering in Suffolk County can help make your event perfect. Contact us today for more information!
Communion Parties
The big day is here. Everyone is dressed up. Excitement is in the air. The relatives are coming in from all over. It's your son or daughter's first communion, but there's one problem– you forgot to plan the party…
Set aside your worries, because, at Jonathan's Ristorante, we know how to throw a party! As one of the best communion party venues and catering on Long Island, our reputation speaks for itself.
Listed by Zagat as one of America's top restaurants, be prepared to be wowed with our delicious food prepared by executive chef Tito Onofre. And an award-winning wine list that took home honors of "Award of Excellence." Located in the cozy confines of the Huntington village, our stylish, elegant, and yet intimate interior combined with outdoor seating will make your special occasion a day you will never forget.
Celebrate Your Special Day with Jonathan's!
Are you planning a 50th birthday party? Celebrate your big event at Jonathan's Ristorante! We will happily work with you to provide an excellent menu and venue to ensure that your event is everything you imagined it to be and more. If you're searching for delicious catering in Suffolk County to make your event a success, Jonathan's Ristorante is the place for you.
A 50th birthday is one of the most remarkable to celebrate and should be remembered with the guest of honor's closest friends and family. Create a list of friends and family to send invitations to and branch out to inviting plus ones, neighbors, and acquaintances. For more tips on how to efficiently create a guest list, click here.
Beverage Packages
To celebrate you or a loved one's 50th birthday, we suggest you add one of our following specials: the Premium Open Bar, Beer and Wine Package, and Bubbly Shower Package. The Beer and Wine Package ensures that your guests will be able to find a drink they enjoy. It includes two white wines, two red wines, and four beers. However, if you'd like to celebrate the big 5-0 extravagantly, we recommend the Bubbly Shower Package. Our unlimited glasses of mimosas and prosecco will make your special celebration a success. Check out our menu for more information and prices.
Party Essentials
Celebrating 50 years of someone is a special event and calls for creative decorations and fun elements. Here are a few ways you can make your event even more special for the guest of honor:
Create a playlist of the guest's 50 favorite songs.
String together 50 pictures of him or her along a clothesline and hang it up at the venue.
At Jonathan's Ristorante, we want all of our guests to enjoy their time here and more importantly, your event. If you are planning a special event and are searching for catering in Suffolk County, Jonathan's Ristorante can help you. Contact us today at 631-549-0055 and we'll begin to turn your dream event into a reality.
Rehearsal Dinner
Planning for a wedding can be a stressful process with so many things to consider and so many events to plan before even the wedding. One of the things that need to be considered is the rehearsal dinner and where it'll be held. You'll need a place that can accommodate the bridal party, out of town guests, and anyone else you want to include. The location must also have a great reputation and service. Sure enough, if you are looking for a rehearsal dinner venue or catering on Long Island, Jonathan's Ristorante is the place for you. With an outstanding menu and great service as well having a great reputation, they can help you check off the rehearsal dinner venue off your list.
Picking a rehearsal dinner venue isn't the most important part of planning a wedding, however, it still is a big part of the wedding planning process and some thought should go into picking a venue.
The venue should be able to accommodate everyone on your rehearsal dinner list.
The venue that you choose should be able to host private events. You don't want to disturb others who may be dining at the same time, or vice versa you would not want someone coming in and disrupting your event.
Picking a venue that has a good reputation, is an important time that you will remember forever and you don't want it to be tarnished because the food or drinks were not up to expectations.
Location is also critical as your rehearsal dinner guests may have checked into the hotel block already at this point. Jonathan's Ristorante is conveniently located near the Fox Hollow, Larkfield Manor, Crest Hollow Country Club, and more!
Contact Us
Along with these catering options, we have many add-ons that you can make your party more exciting! Hors-d'oeuvres, beer & wine, open bar, or espressos and cappuccinos are just some of the many ways to further personalize your party. A popular addition is our bubbly shower package. If you are planning an event like an engagement party, or a baby or bridal shower soon, our bubbly shower package comes with unlimited prosecco and mimosas which are perfect for any celebration!
If you are looking for catering in Suffolk County, Jonathan's Ristorante is here to host your event! Whether you have a bridal shower, engagement party, birthday party, rehearsal dinner, graduation, communion, or retirement party, with our menu options and add-ons, you will find the right option for your party that your guests are sure to enjoy. Contact us at (631) 259-4989 to book your event today!