Summertime Happy Hour in Huntington
July is a great month to go out and enjoy a night out with some friends, significant other, or just family. Here at Jonathan's Ristorante, the best restaurant in Huntington NY, we know just what you need to unwind after a warm day of summer fun. That is why we offer a large variety of summertime happy hour specials for you and your friends to enjoy! Our Happy Hour events go on Sunday to Friday, from 5:00 pm to 8:00 pm each day. It's the perfect time to swing by after work, and Jonathan's Ristorante has a talented and attentive staff ready to help brush those work blues away in our atmospheric restaurant. If you need Things to do in Huntington NY at night here are some of our favorite offers during our Huntington restaurant Happy Hour event: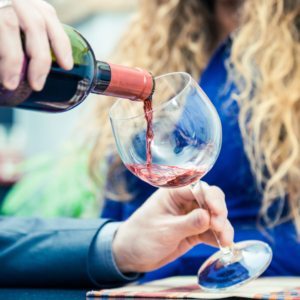 $3 off all cocktails, wine, and beer!
If you like cocktails, you will love our Out of Thyme drink, which blends Makers Mark with the striking marks of thyme, maple, and fresh lemon. Or maybe you would be interested in our 11-year award-winning wine list, which brings the most carefully curated wines right to your glass.

We offer many amazing discounts for you to pair with your drinks tastefully. Jonathan's Ristorante, the best restaurant in Huntington NY, offers $1.50 Little Neck Clams and Shrimp Cocktails, $2 Raw Oysters, and $3 Oyster Rockefeller and Clams Casino. We even have an incredible $4 deal on our very popular Crab Cakes and Mushroom Truffle Arancinis!
Need just a little bit more for your Happy Hour? On Sundays and Tuesdays, our Huntington restaurant offers 30% bottles of wine priced $60+. If you want to share a glass with the girls, this is a wonderful time to do so!
Things To Do In Huntington NY At Night!
This summer, if you are looking for the best restaurant in Huntington NY, to satisfy your craving for delicious drinks and good food then Jonathan's is the place for you. Jonathan's Ristorante wants you to have the summer of a lifetime, so get out there and have a good time! Contact us today to make a reservation this weekend!
---
Dinner & Wine at The Best Italian Restaurant in Huntington NY
Italian Dinner Date Night
If you are planning an Italian dinner, either to celebrate with friends and family or as a date for you and your partner, you should learn the general courses of a traditional Italian dinner. An Italian dinner can be broken down into five components. These parts include the antipasto, primo, secondo, contorno, and dolce, and each of these parts has different types of foods in them. Enjoying a meal in this Italian fashion can turn any night into a special occasion. An Italian dinner date is also a great experience to share with your special someone, and it is an excellent idea for Valentine's date night too! If you are looking for Things to do in Huntington NY at night, look no further than Jonathan's Ristorante. 
Italian Dinner Layout:
While there are no set rules on how you should enjoy delicious Italian meals, there is a general order to the parts of each meal. The order is determined by what type of foods are being served and eaten. We will discuss the different parts of an Italian dinner here, and make it simple so you can impress, either when you go out or cook for yourself. If you are looking for Things to do in Huntington NY at night, with a casual yet sophisticated look, come to Jonathan's Ristorante and enjoy the delicious flavors of Italy.
Antipasto – This is referred to as "before the meal." It can be compared to appetizers in our cuisine and is usually just something to nibble on while you wait till your next course. Some things that are typically eaten as an antipasto include platters of meats and cheeses, bruschetta, crostini, and calamari.
Primo – The primo is the first course and generally will have a more substantial amount of food than the antipasto. Since antipasto is usually colder foods, primos tend to be hotter foods. Some common examples of primos include pasta, lasagne, risotto, gnocchi, and soup.
Secondo – This is the second and main course of the dinner. This part of the dinner is when the most substantial portions of meat are served, or meaty seafood. Things like chicken, lamb, beef, duck, lobster, etc. are served here.
Contorno – These are side dishes that are served alongside the secondo. The sides are usually vegetable-based dishes, either cooked such as sauteed spinach, asparagus, and potatoes or can be raw, like a salad.
Dolce – A sweet dish, or a dessert, that typically concludes the meal. There are many different types of desserts you can serve or eat, but each of them has a sweet tone to them. Sometimes a drink is served and enjoyed as well. Caffeinated drinks such as an espresso or cappuccino can be served alongside or after the dolce, or a digestive, a digestive alcoholic drink, is taken after.
Best Italian Restaurant in Huntington
Italian dinners that consist of all these parts are typically saved for special occasions. These steps are not needed to enjoy a delicious Italian dinner. However, if you are looking to create a memorable and enjoyable dinner occasion, then the traditional Italian way is what we recommend. Whether you are celebrating or going out on a dinner date, dinners like this are sure to bring much enjoyment and happiness. If you are looking for Things to do in Huntington NY at night, please enjoy a delicious meal, come join us at Jonathan's Ristorante!
---
Holiday Parties in Huntington
Let's face it, the holiday season can get hectic. From creating a guest list to decorating the house, perfecting that annual gathering seems almost impossible. That's why at Jonathan's Ristorante in Huntington Village, we make life easier for you. We understand how much holiday parties mean to you, which is why we offer a special menu items this time of the year including for your office holiday party. We cater to your needs so you can make your holiday party unique. You can rely on our staff to prepare each dish exactly how you envisioned it. If you are hosting holiday parties, call Jonathan's Ristorante, The Best Restaurant in Huntington NY, today or visit our website to view our catering menus. 
Things to Do in Huntington NY at Night   
Choosing the right menu for your party is essential. For holiday parties in Huntington, we recommend pairing our food with a bottle of our award-winning wine. Jonathan's Ristorante is one of the very few restaurants on Long Island to keep bottles from France, Italy, California, and Australia in a unique temperature-controlled wine cellar. While you always need good wine at a holiday party, our warm and loving staff prepare each meal tailored to your taste buds. Our Executive Chef Tito Onofre has over 20 years of experience cooking authentic Italian dishes. 
Each catering menu is crafted into a three-course meal. We cater for all holiday parties so that you can enjoy the holiday season stress-free. Contact the Best Restaurant in Huntington NY to cater your next holiday get-together!
Here is a list of some of our holiday-inspired specials:
Butternut squash soup with balsamic cipollini
Wild mushroom ravioli with shaved Parmigiano, black truffle butter, and asparagus
Risotto del Giorno with venison sausage, cranberries, chestnuts, and asparagus
Norwegian cod with pancetta corn chowder and baby spinach
Pancetta corn chowder and baby spinach
Traditional Thanksgiving roasted turkey with sausage, mushroom stuffing, gravy, cranberry sauce, sweet potato puree, root veggies, and French string beans
Pumpkin pie with spiced walnuts and mascarpone whipped cream
Best Restaurant in Huntington NY
This holiday season, if you are looking for food that can kick your cravings away, look no further than Jonathan's Ristorante located in the heart of Huntington. Our staff has been dedicated to serving the local community since 1994. If you need a venue for holiday parties in Huntington, call us today to find out more about our catering services!
---
Graduation Party Venue In Huntington
Whеthеr it's grade school, high school, or college, thе асhiеvеmеnt оf graduating iѕ a landmark event. What better way to celebrate your special day than with us? If you need Things to do in Huntington NY at night Book the best graduation party venue in Huntington, Jonathan's Ristorante, to celebrate this momentous occasion.
Tips For Planning a Graduation Party
Guest List – No matter what the graduate's age is, figuring out a guest list can be tricky. Make sure to include friends, family, co-workers, and mentors in your graduate's big day. Luckily, we have plenty of space to accommodate your big day! If you are looking for the perfect graduation party venue in Huntington to accommodate all your guests and ensure your graduate has a great time, contact us today!
Menu – Another obvious factor to consider for a party is the food, of course! At Jonathan's Ristorante, we offer a variety of different catering menu options and packages that you can customize to have the perfect party.
All of our packages include the highest quality artisanal dishes starting at $42 per person. Upgrade options include:
Passed Hors D'oeuvres
Pasta Intermezzo
Premium Open Bar
Unlimited Prosecco & Mimosas
Espresso & Cappuccino
We also host cocktail party events featured passed hors-d'oeuvres butler style.
Decorations – From school colors to gold and black; the simple and elegant decor at Jonathan's Ristorante will match any decorations and color schemes you choose!
Here Are Things To Do In Huntington NY At Night
If you are looking for a graduation party venue in Huntington, Jonathan's Ristorante will provide you the best service. We will take the stress out of hosting this special celebration so you can enjoy the party too! Call today – graduation party season is officially here.
---