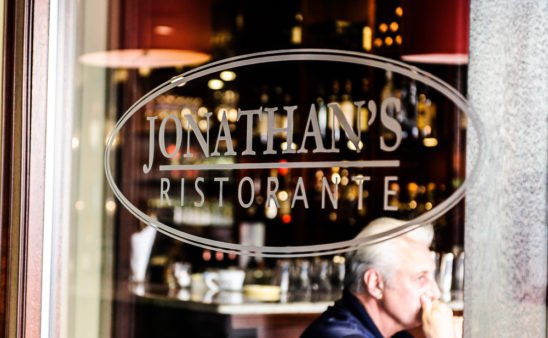 This winter is an exciting time here at Jonathan's Ristorante. Voted one of America's top 1,000 Italian restaurants, our experienced and knowledgeable staff is excited to roll out some of our favorites this holiday season. So if you're looking for authentic Italian cuisine,  vibrant decor, and amazing hospitality, Jonathan's Ristorante in Huntington is the place to celebrate this holiday season!
Here is a sample of selections we are currently offering.
Menu Items
Bistecco De Manzo: Be sure to bring your appetite as our

black angus shell steak

with herbed french fries is sure to satiate your hunger. Equipped with your choice of black truffle butter or peppercorn sauce, this hearty meal is every meat lover's dream.   

Ravioli: A staple Italian dish, our Ricotta and

Spinach ravioli

comes with grape tomatoes, pesto, and ricotta salad on the side.  

Salmon:High in fat content, this seafood dish is slightly flavored with a moderate to firm texture. Combined with roasted baby root vegetables, baby spinach, and horseradish cream sauce drizzled on top this dish is sure to impress.

Linguini Nere: Squid Ink Linguini, succulent shrimp, savory pancetta….Need we say more? Combined with red and yellow grape tomato, this dish will have you going back for seconds..

Pollo al Limone: Don't despair chicken lovers we've got you covered too. Consisting of our tenderized Bell and Evans chicken, tantalizing french string beans and roasted potatoes, drizzle on some  lemon or rosemary sauce for the ultimate experience!
Jonathan's Ristorante in Huntington
With an extensive wine list, award winning menu, and friendly and knowledgeable staff,  Jonathan's Ristorante in Huntington is your primary destination for Italian food on Long Island. Interested in finding out more about our menu or looking to set up a reservation? Contact us today and see what everyone is talking about!