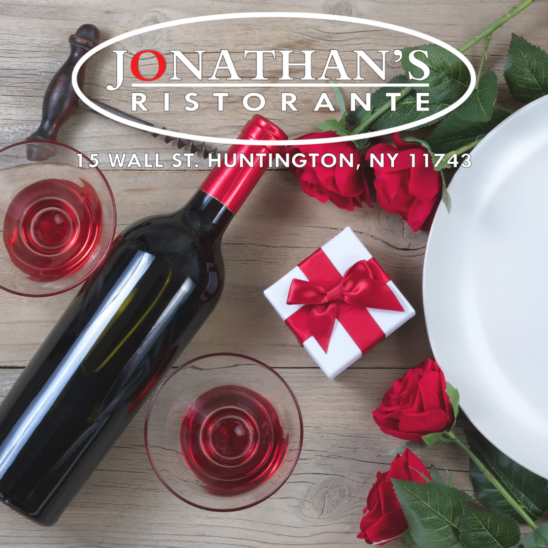 Valentine's Day will always be a time to show your loved ones how much you care. While thanks to the pandemic, this year will be different than any other we've faced, it doesn't mean you can't do something special. Here at Jonathan's Ristorante, we want to help give our customers the best Valentine's Day experience possible. That is why we highly recommend you considering making a reservation or order takeout from our restaurant in Huntington on the 14th.
Benefits Of Ordering Takeout
With the pandemic running rampant in the United States, it's not hard to understand why some people do not feel comfortable eating in public dining rooms right now. Although our restaurant in Huntington is open and accepting reservations, we still want to help the customers who'd prefer to stay out home enjoy our food. That is why our menu is also available for takeout. The benefits of ordering this way from our restaurant in Huntington include:
Being able to enjoy our menu without needing to sit in our dining room.
Giving your loved one a well-cooked meal without needing to do any preparations yourself.
Supporting a local business.
Getting to plan exactly when you want to eat.
What To Order
For many couples, it wouldn't be Valentine's Day without an upscale meal for dinner. If you're looking to stay in this year, it's essential to check your takeout options to see which offers the highest quality. We're willing to bet that our restaurant in Huntington will take home that prize. We have so many delicious options to choose from that you'll be able to turn your home into our dining room. To make the most out of your Valentine's Day, we recommend considering the below options:
Cavatelli with lobster.
Spaghetti bolognese.
Pollo a limone.
Salmon scozzese.
Homemade tiramisu.
Maple mascarpone cheesecake.
Order Takeout From Our Restaurant in Huntington
This Valentine's Day, don't let your loved one down by planning a subpar evening. By ordering takeout from our restaurant in Farmingdale, your tastebuds will be thanking us. If you'd like to learn more about our menu or are interested in placing your order, be sure to contact us at Jonathan's Ristorante today.