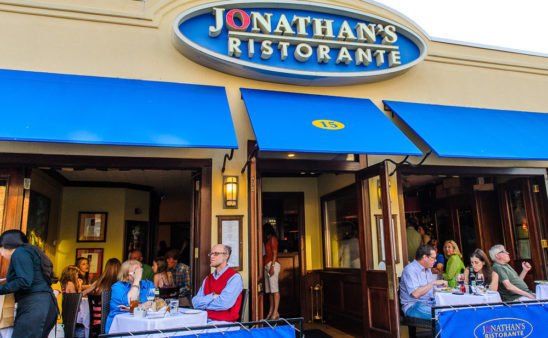 We are finally getting some warmer weather and sunshine, which makes this season the perfect time to enjoy outdoor dining in Huntington! At Jonathan's Ristorante, we have seating available outside on our gorgeous back patio. If you love delicious Italian food and want to dine outdoors this summer, Jonathan's Ristorante is the place to be for a good time in Huntington. 
The Benefits of Outdoor Dining
With the current situation regarding the ongoing COVID-19 pandemic, we want to make sure our customers know that we are taking the necessary steps and precautions to ensure our customers, staff, and community's safety. When you come for outdoor dining in Huntington, you can enjoy the sunshine and fresh air with friends and family while also keeping up with social distancing measures.
Italian Food in Spring
Jonathan's Ristorante has been a staple in the community for many years, and has been a go-to for those looking for outdoor dining in Huntington. Here are some of the delicious dishes we serve at Jonathan's that you can enjoy al fresco:
Agnolotti di Zucca.
Pollo al Limone.
Linguine Neri con Gamberi.
Branzino.
Salmone Scozzese.
Filet Mignon.
Our Bar
We have a wide selection of different wines and cocktails that you can choose from to enjoy with your Italian meal! Consider joining us for outdoor dining in Huntington so that you can enjoy some of our delicious cocktails that we have listed below:
Peach Bellini.
Pear Tree Martini.
Cucumber & Jalapeno Martini.
Out of Tyme.
King Guadalupe.
If you're not in the mood for a cocktail, you can also enjoy our wine selection! We currently have an amazing promotion where you can get 30% off bottles of wine! We have endless options for you to try, and our team can help you find your new favorite drink! Click here to view our entire dinner menu.
Contact Us
There is no shortage of Italian restaurants in Huntington, but few can compare to the quality of Jonathan's. At Jonathan's Ristorante, we can't wait for you to join us for outdoor dining in Huntington this season! Our expert waitstaff is always here to answer any questions you have about our menu, wine, and food pairings. Be sure to contact us today to schedule your reservation!
Read More