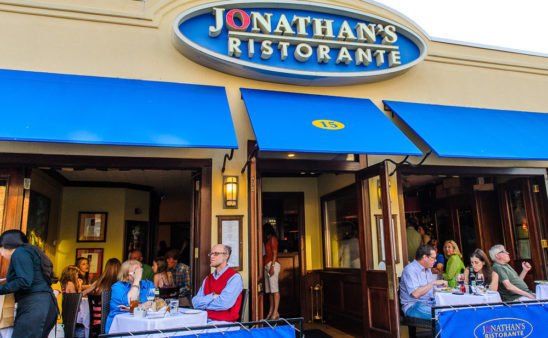 Upscale Dining in Huntington
At Jonathan's Ristorante, we provide upscale dining here at our Italian Restaurants in Huntington, NY. From our award-winning wine list to our artisanal menu that is made fresh daily, our restaurant is the perfect place for any occasion. If you would like to make a reservation, call (631) 549-0055.
Top Restaurants In Huntington
From our appetizer menu to our desserts, our Zagat reviewed restaurant has a dish for nearly everyone. Maintaining high culinary standards, our head chef Tito Onofre leads a kitchen team focused on quality and detail. "A Huntington staple for years, this village charmer builds it's staying power with imaginative, ever-changing Italian fare that ventures outside the box and is enhanced by selections from a great wine list; whether you dine in the romantic, dimly lit space or outside at sidewalk tables," reviewed by Zagat. Located at 15 Wall Street, our elegant and spacious space is perfect for milestone celebrations, business meetings, or simply a nice night out.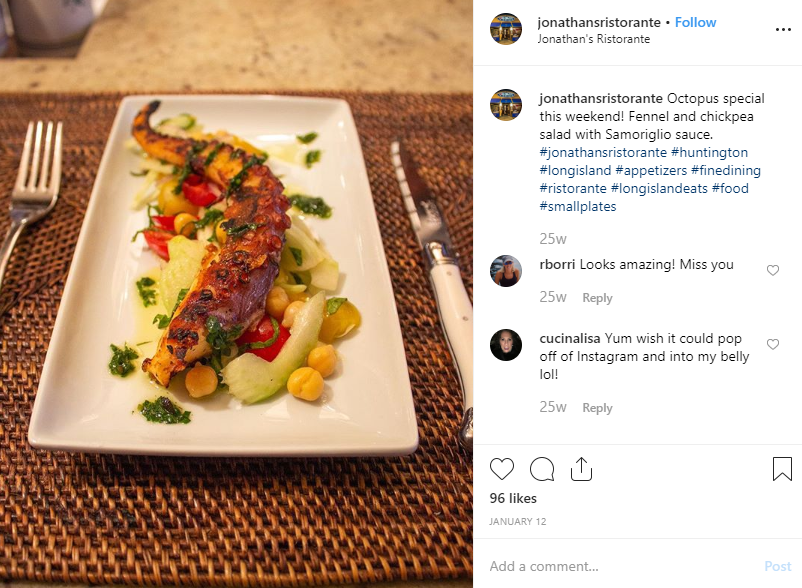 What Sets Us Apart?
If you are looking for upscale dining Italian Restaurants in Huntington, NY, look no further than Jonathan's Ristorante. As one of the top restaurants in Huntington, our commitment to quality begins from the minute you walk into the door to the end of your visit. Our wait staff can provide recommendations from both our wine list and food menu. All menu items are made fresh in-house daily, curated to provide you with the most flavorful infusions.
Our Menu
Jonathan's Ristorante, one of the preeminent restaurants in Huntington, offers Happy Hour, Lunch, and Dinner offering first class Italian fare with modern and traditional influences.
Our Happy Hour menu features drink specials on our crafted cocktails and other alcoholic beverages as well as food specials including $1 oysters and artisanal bar bites which include:
Piatto di Formaggi
Piadina
And more!
Our lunch and dinner menu is constantly evolving to feature our most popular dishes, seasonal favorites, and the newest menu items created by our kitchen staff.
Some dinner menu items include:
Anatra alla More
Bistecca alla Griglia
And more!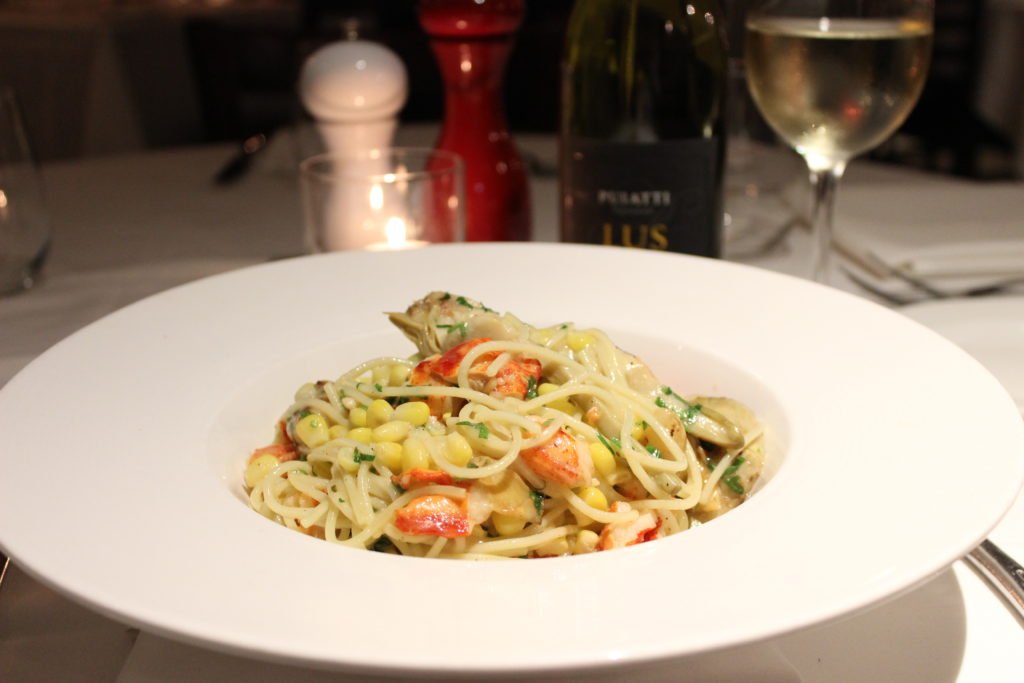 At Jonathan's Ristorante, our menu options are broken down into six categories: today's specials, lunch, dinner, Sun – Fri $35 Prix Fixe, bar, and catering. We also carry an assortment of different wines which come from small vineyards in Italy, France, Australia, and California. Owner Roberto Ornato believes the different aspects of the restaurant differentiate it from the other Italian restaurants in Huntington, NY, therefore, we were recognized by Zagat, with an "award of distinction" and voted one of America's top 1,000 Italian Restaurants.
Lunch Menu
Our lunch menu offers a variety of different Italian classics, such as arancini and pasta, as well as our take on non-Italian dishes, like the turkey burger, which is prepared with fontina, caramelized onions, and sweet potato fries. This menu also has an assortment of starters, salads, burgers and sandwiches, meats, pasta, seafood, and additional sides.
Dinner Menu
Our dinner menu is a combination of dishes served during lunch, with a variety of other additions. This includes salads, appetizers, "easy to share," pasta and risotto, fish and meat, and sides.
Our "easy to share" dishes include:
Speck

Learn more about speck here
Piatto di Formaggi
Piatto di Salami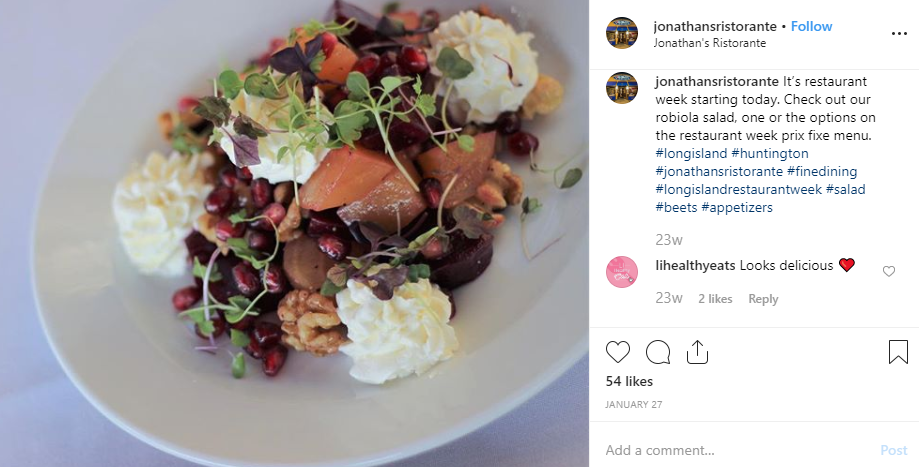 This menu is exactly what the title suggests: four dishes which can be shared with loved ones or a group, even indulged on your own.
Sun – Fri $35 Prix Fixe
2018's prix fixe menu includes three courses for $35 every Sunday through Friday, all night long! You may choose one antipasti, secondi and dolci. There are no substitutions and this menu is subject to change. Some choices you may select include:
Antipasti

Caprese, fritto di carciofini, regula e pomodori & parmigiano
Secondi

Spaghetti, Long Island duck breast, risotto con funghi capesante

Dolci

Artisanal trio of gelato, tiramisu, flourless chocolate cake & coffee gelato
Bar Menu
Our bar menu has an assortment of cocktails, wine by the glass, beer, as well as "bar small bites" to fill your stomach. Every Sunday through Friday, from 5 p.m. to 8 p.m., you can indulge in happy hour specials including:
$4 Mushroom | Truffle Arancini
$3 Off ALL Cocktails, Wine, and Beer.
Also, every Sunday and Tuesday, we have 30% off bottles of wine $60 and up!
Catering Menu
If you are looking for Italian restaurants in Huntington, NY for your event, Jonathan's Ristorante can help! Depending on your preferences and number of guests, you may select from two different party menu options. You can also add additional items which include:
Bubbly Shower Package
Espresso & Cappuccino
You may also select cocktail hour items with your choice of five of our many passed hors-d'oeuvres!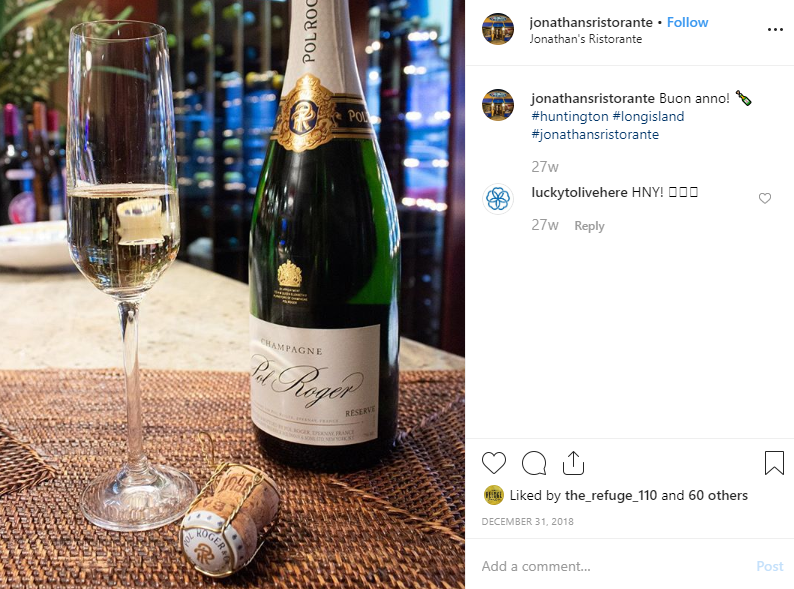 With all the Italian restaurants in Huntington, NY, it can be difficult to choose your favorite. Drop by Jonathan's Ristorante or schedule an online reservation today!
The Benefits of French Wine
Not only does wine have a delightful taste, but it also has many benefits for your health! A diet rich with wine, especially red wine, is known to have health benefits for your heart and longevity. Here at Jonathan's Ristorante, an Italian restaurant in Huntington, we have a large selection of wine and a great variety of delectable French wines. Visit us and enjoy a glass of wine; there are more health benefits than you think.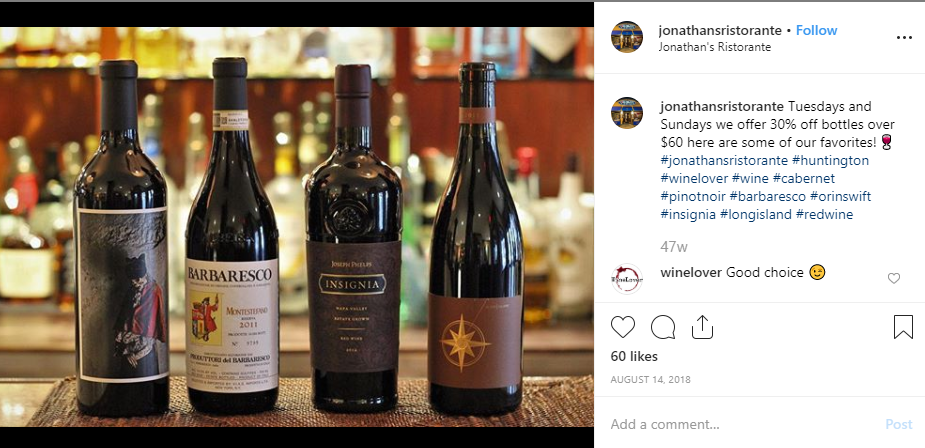 Wines of the South West Region of France
The residents of the Sud-Ouest France, known as the Gers region, are of the longest living people in France and the benefits of their local wines contribute to their longevity. The local wines of this region such as Madiran, Cahors, Bergerac, and Saint-Mont are very rich in procyanidins. These are antioxidants that provide many heart-healthy benefits such as:
Preventing cancer and cardiovascular diseases.
Preventing blood clots.
Boosting the health of your endothelium (tissue lining your heart and blood vessels).
The wines of the Sud-Ouest region have more procyanidins than most Cabernet Sauvignon and Merlot.
Benefits of Wine
Along with the benefits that procyanidins provide, there are many more health benefits that come with drinking wine. Here are a few of the positive advantages that come with a moderate consumption of wine:
Reduces the risk of heart attacks.
Protects against heart disease.
Reduces risk of stroke.
Reduces chances of getting Type-2 Diabetes.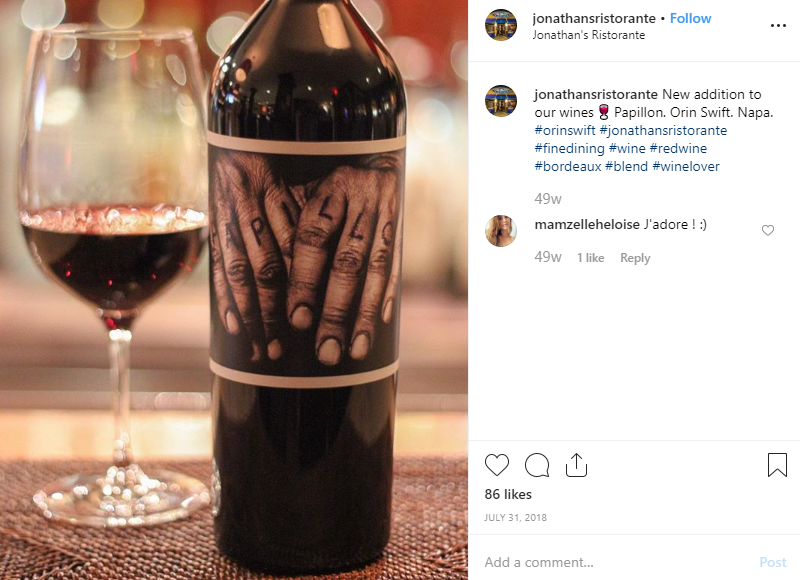 French Wine Selection at Jonathan's
At Jonathan's Ristorante, an Italian restaurant in Huntington, we have an extensive list of delightful wines from across the globe. Within that selection, we offer a wide variety of reds, whites, and champagnes from France. Here is our French wine selection:
Reds:

Chateauneuf du Pape, Domaine Santa Duc, Habemus Papam

Pommard Bastion de L'Ortoire, Chanson, Cote de Beaune

Bouchard Pere & Fils, Beaune 1er Cru Clos de la Mousse
Bordeaux, Chateau La Grave, Pomerol, Trigant De Boisset
Whites:

Sancerre, Jean-Paul Balland
Chateauneuf du Pape Blanc, Domaine Saint Prefert, Rhone
Puligny-Montrachet, Joseph Drouhin, Burgundy
Corton-Charlemagne, Grand Cru, Louis Latour, Burgundy

Champagne:

Champagne, Veuve Clicquot, Yellow Label, Brut, France
Champagne, Pol Roger, Reserve, France
Champagne, Dom Perignon, Moet-Chandon, France
Fun Facts
There is so much history behind a single bottle of wine and a lot of time that goes into making these drinks so delightful. Here are a few facts about the French wines we offer at Jonathan's:
About 3,000 cases on average of Bordeaux wine are made each year at Chateau La Grave, Pomerol.
Champagne, Pol Roger, Reserve, France was the champagne that was served to His Royal Highness Prince Harry of Wales and Ms. Meghan Markle at their wedding reception at Windsor Castle.
Visit us at Jonathan's Ristorante, an Italian restaurant in Huntington, to try some of these lovely wines from France!
What Is Linguine Nere?
Linguine is a popular type of pasta which is wide, flat, and thin and similar to fettuccine and trenette. "Linguine Nere" also known as "Squid Ink Linguine" is believed to have originated in Sicily. At Jonathan's Ristorante, one of the most popular Italian Restaurants in Huntington, we serve Linguine Nere with authentically made squid ink linguine, shrimp, and spicy san marzano tomato sauce. With a complex combination of flavors, it is no wonder this dish is one of the most popular on both our lunch and dinner menus.
When pairing wine with this dish, there are many considerations to be made. A medium body wine designed to complement the squid ink and shrimp or the spicy san marzano sauce is a great start
If you prefer white wine, some great options on our extensive wine list include:
If you prefer red wine some good options include:
We featured Italian wines that are grown and cultivated near the Mediterranean Sea to capture the essence of this dish. Feel free to pick any wine you prefer or ask one of our team members for help in making the right selection. To view our complete wine list, click here.
Artisanal Dishes Available At Italian Restaurants In Huntington
Our extensive lunch and dinner menus feature a wide variety of authentic Italian dishes which include:
Appetizers:
Arancini- Mushroom rice balls with truffle aioli
Fritto di Carciofini- Sauteed baby artichokes, & basil pesto
Piadini- Flatbread with prosciutto, ricotta, figs, & honey
Pasta
Linguine Nere- Squid ink linguine, shrimp, spicy san marzano tomato sauce
Spaghetti Vongole- Manilla clams, roasted garlic & habanero chile
Bucatini- Nonna Alba's bolognese sauce
Salad
Arugula- Cherry tomatoes, citrus vinaigrette, with Parmigiano or goat cheese
Insalata di Cocomero- Mint, watermelon, & ricotta salata
Mista Robiola- Beets, pomegranate, robiola cheese, & walnuts
Raw Seafood
Little Neck clams- Half dozen
Salmone- Heirloom potato/string bean salad, dill vinaigrette sauce
Oysters- Half doze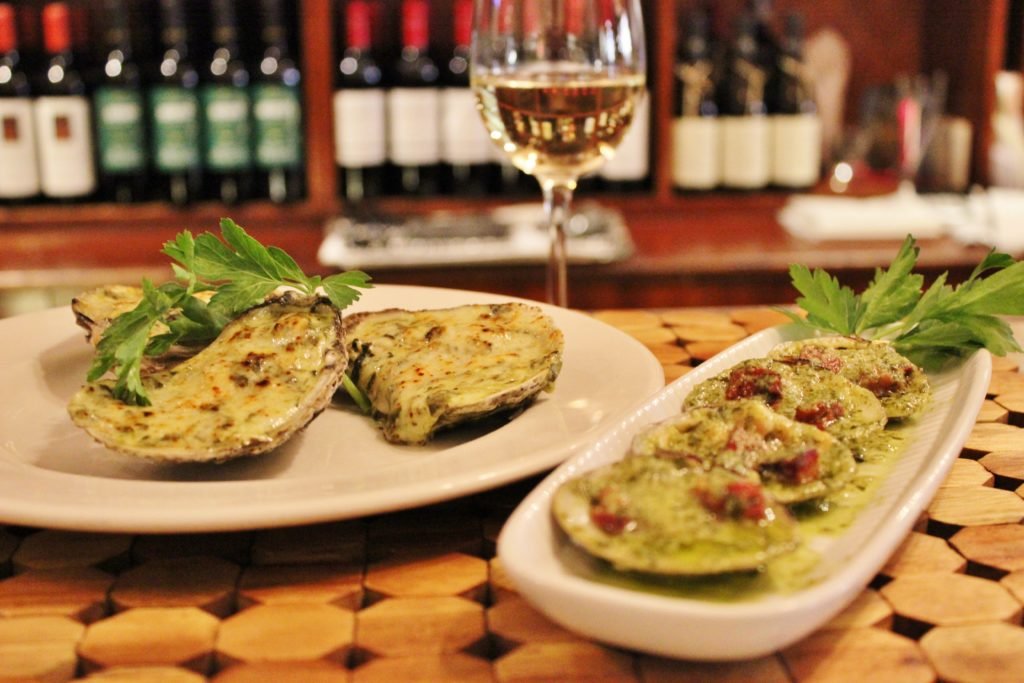 To read our full dinner menu, click here.
When looking for Italian restaurants in Huntington, look no further than Jonathan's Ristorante. Make your reservation today! With ever-changing daily specials, you are in for a treat no matter which day you dine.
Having a lunch menu that offers a vast selection of meats and pasta allows you plenty of choices for a mid-day meal. Their dinner menu gives many the taste of Italy that they are looking for. It is the memories of Italy that keeps the customer coming back for more.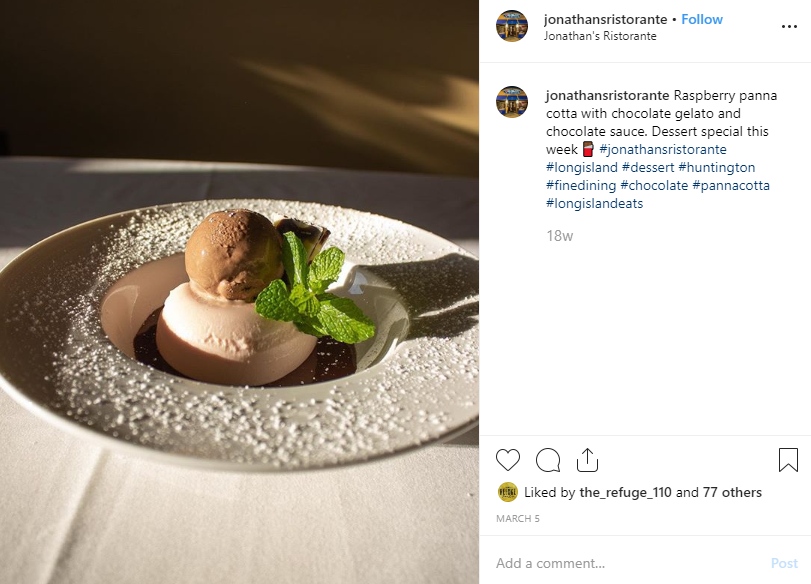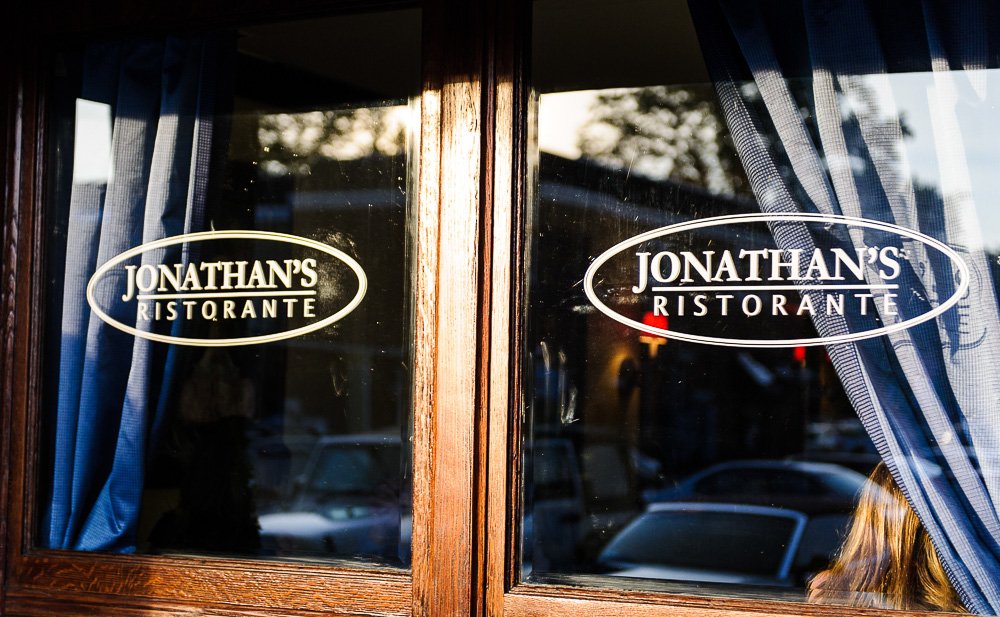 A neighborhood gem with exceptional service that welcomes both new faces and regulars with the same type of service. Its the reviews like this that make picking one of the many Italian restaurants in Huntington, NY a no-brainer. To make a reservation today visit their website to make an online reservation to see what everyone is talking about.
Summary
Service Type
Provider Name
Jonathan's Ristorante
,
15 Wall Street
,
Huntington
,
NY
-
11743
,
Telephone No.631-549-0055
Area
Description
Jonathan's Ristorante is one of the most sought after upscale Italian restaurants in Huntington, NY that offers an assortment of food and wine.