Jul
23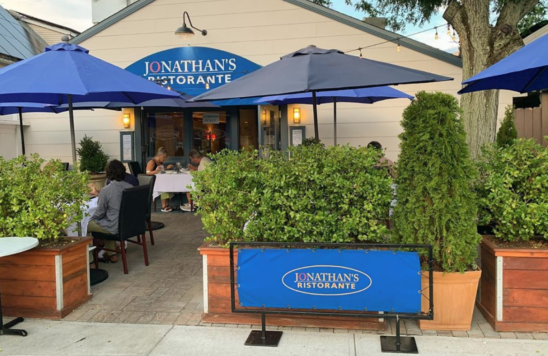 As Long Island continues to reopen, our team at Jonathan's Ristorante would like to address how we have begun to navigate through these uncharted waters. While we are ecstatic to be able to begin serving our community more than we had been in recent months, our commitment to safety is still paramount. We want customers to feel comfortable dining at their favorite restaurant in Huntington. To learn more about how we are protecting our customers and staff, please continue reading.
Seating Arrangements
As you may know, here at Jonathan's Ristorante, we have been providing takeout for some time now. However, we're happy to announce that sit-down dining is now once again an option! When the weather permits it, we have outdoor seating on our back patio as well as in our indoor dining room as well. To adhere to safety guidelines, our maximum occupancy has been reduced in order to allow for socially distant seating. Reservations are recommended, so please do not hesitate to call us when you're craving food from the top restaurant in Huntington.
Our Bar Area
Stopping in for a delicious cocktail and food is always an option this summer. Our bar area is also now open for socially distant seating. Why not stop by our restaurant in Huntington so you can enjoy any of the below drinks:
Out Of Thyme.
Peach Bellini.
Pear Tree Martini.
Cucumber/Jalapeño Martini.
Any of our delicious wines available at 30% off a bottle!
Additional Safety Procedures
When it comes to both our customers and staff, safety will always be our number one priority. We're following best practices listed by the FDA to ensure our return to indoor does not lead to issues. Examples of our safety procedures include:
Having all staff members wear masks.
Increased sanitizing of high traffic areas as well as tables and chairs in between guests.
Screening employees to ensure they don't come to work when displaying symptoms.
Ensuring customers do not congregate around the bar area.
Make Your Reservation
Here at Jonathan's Ristorante, we cannot wait to see our happy customer's faces inside our dining room again. To ensure you don't miss out on our return to form, make sure you contact us today to schedule your reservation!