Feb
28
LA SPINETTA Wines, Owned By The Rivetti Family. In 1985 LA SPINETTA Made Its First Red Wine, Barbera Cà di Pian, With Many Great Reds To Follow. In 1989 The Rivetti Brothers Named Their Red Blend (Nebbiolo/Barbera) "Pin" In Honor Of Their Father.
In 2000 The Family's Ambition Of Adding A Barolo To The Winery Production Became A Reality. The Rivetti's Acquired Vineyards In Grinzane Cavour Where A State Of The Art Cellar, LA SPINETTA Campè, Was Also Constructed.
For LA SPINETTA Sangiovese Is The True Ambassador Of The Tuscan Terrain. From 2004 To 2012 The Indigenous Tuscan Portfolio Was Completed With The Production Of A Colorino, A Vermentino, A Prugnolo Gentile, A Chianti And A Rosé Wine Made From Sangiovese And Prugnolo Gentile.
Jonathan's Ristorante Is Proud To Host This Prestigious Tasting Event.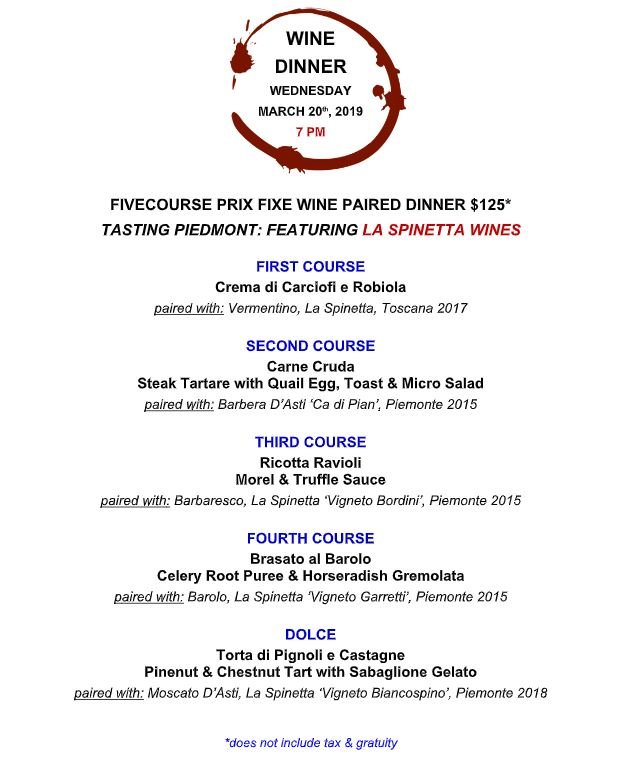 Wednesday, March 20, 2019 At 7pm
$125 Per Person
(Does Not Include Tax & Gratuity)
Reservations Required
Contact Us By Phone For Reservations
631-549-0055