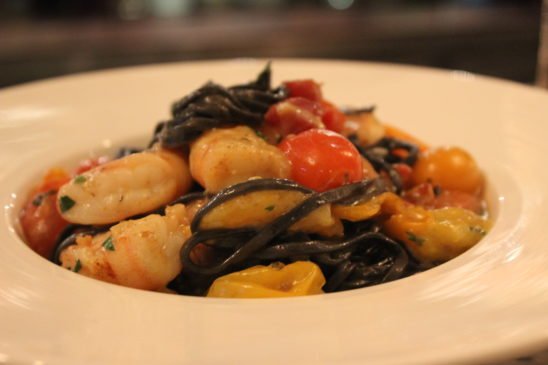 What Is Linguine Nere
?
Linguine is a popular type of pasta which is wide, flat, and thin and similar to fettuccine and trenette. "Linguine Nere" also known as "Squid Ink Linguine" is believed to have originated in Sicily. At Jonathan's Ristorante, one of the most popular Italian Restaurants in Huntington, we serve Linguine Nere with authentically made squid ink linguine, shrimp, and spicy san marzano tomato sauce. With a complex combination of flavors, it is no wonder this dish is one of the most popular on both our lunch and dinner menus.
When pairing wine with this dish, there are many considerations to be made. A medium body wine designed to complement the squid ink and shrimp or the spicy san marzano sauce is a great start
If you prefer white wine, some great options on our extensive wine list include:
If you prefer red wine some good options include:
We featured Italian wines that are grown and cultivated near the Mediterranean Sea to capture the essence of this dish. Feel free to pick any wine you prefer or ask one of our team members for help in making the right selection. To view our complete wine list, click here.
Artisanal Dishes Available At Italian Restaurants In Huntington
Our extensive lunch and dinner menus feature a wide variety of authentic Italian dishes which include:
Appetizers:
Arancini- Mushroom rice balls with truffle aioli

Fritto di Carciofini- Sauteed baby artichokes, & basil pesto

Piadini- Flatbread with prosciutto, ricotta, figs, & honey
Pasta
Linguine Nere- Squid ink linguine, shrimp, spicy san marzano tomato sauce

Spaghetti Vongole- Manilla clams, roasted garlic & habanero chile

Bucatini- Nonna Alba's bolognese sauce
Salad
Arugula- Cherry tomatoes, citrus vinaigrette, with Parmigiano or goat cheese

Insalata di Cocomero- Mint, watermelon, & ricotta salata

Mista Robiola- Beets, pomegranate, robiola cheese, & walnuts
Raw Seafood
Little Neck clams- Half dozen

Salmone- Heirloom potato/string bean salad, dill vinaigrette sauce

Oysters- Half dozen
To read our full dinner menu, click here.
When looking for Italian restaurants in Huntington, look no further than Jonathan's Ristorante. Make your reservation today!