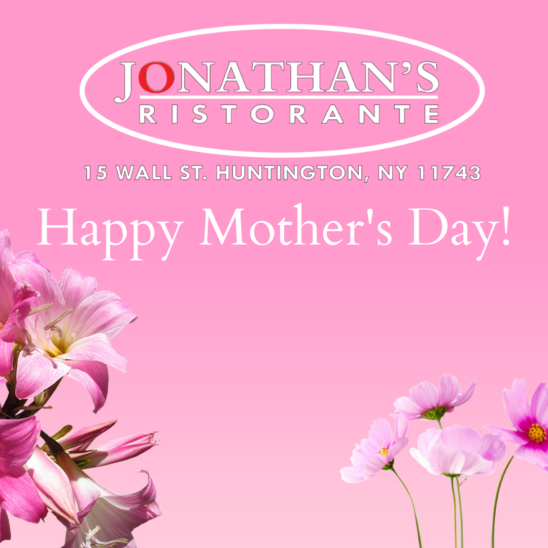 Mother's Day is a special day where we celebrate and honor mothers and their influence on our lives and society. This year, show mom your appreciation by treating her to a delicious dinner at our restaurant in Huntington! Our team at Jonathan's Ristorante is here to help you make this day special. Mother's Day is just a short time away, so make your reservation today to secure your plans!
Mother's Day Fun Facts
While mothers deserve to feel special every day of the year, in 2021 you'll be showering her with appreciation on May 9th. Our restaurant in Huntington would like to share some fun facts about the history of Mother's Day that are sure to impress, such as:
One of the earliest celebrations of Mother's Day was in Ancient Greece. In Ancient Greece, they would have celebrations in the Spring to honor Rhea, the goddess of fertility, generation, and motherhood!
Around 122 million phone calls are made on Mother's Day, which is more than any day of the year!
Woodrow Wilson declared Mother's Day a nationwide holiday in 1914.
Choose Jonathan's Ristorante
If you're looking for a delicious Italian Mother's Day dinner, look no further than our restaurant in Huntington. Jonathan's Ristorante has been a landmark in the village of Huntington for over 25 years. Here are some of the delicious dinner options we offer on our menu:
Cavatelli with Lobster.
Mushroom Ravioli.
Branzino.
16 oz. Grass-Fed New York Strip Steak.
Spaghetti Bolognese.
Our team is ecstatic to serve our community on this special day! If this is your first time visiting a restaurant since they've started to reopen, we would like to help you feel more comfortable dining at our restaurant in Huntington. We are committed to protecting the health and safety of our staff and customers. We have options for both indoor and outdoor dining. Our maximum capacity has been reduced to allow for proper social distancing. We recommend that you schedule a reservation, so please do not hesitate to call us to solidify your Mother's Day plans!
Make a Reservation At Our Restaurant in Huntington
Treat your mom to a delicious Italian meal in a great atmosphere at our restaurant in Huntington! At Jonathan's Ristorante, our staff is here to help you make this day special and memorable. Contact us today to schedule your reservation!